At the beginning of the week, we saw bitcoin and ethereum rallying, and Axie Infinity has been exploding left and right, hitting major milestones. And then, the historic hack happened with the theft of USD 600m from Poly Network, with the attacker starting to return funds soon, giving back some USD 342m in two days, and the rest a day later. Meanwhile, total global investments in blockchain and cryptoassets surpassed the previous annual ATH reaching USD 8.7bn, Circle said it's on a journey towards becoming "a national digital currency bank", Coinbase plans to build upon its Coinbase Card debit card and bitcoin-collateral loan service, and BitMEX reached a settlement with US regulators, while Hester Peirce criticized the settlement Poloniex made with the SEC. Speaking of the SEC, it wants 'terabytes' of Ripple employee's Slack messages. Jack Dorsey justified his BTC-only stance, and Tron launched a USD 300m fund for GameFi projects, while for crypto newcomers the lack of knowledge is more important than volatility.
The Cryptoverse is not all fun, trade, and games though. A teenage crypto trader was murdered in cold blood, gunned down in broad daylight.
A 'code red' for humanity was issued in a new climate report, which can serve as a reminder for Bitcoin miners. While Argentina's president calls crypto a 'hard currency' that can fight inflation, and an Argentinian MP demands crypto policy answers from the government, the US Senate passed the controversial infrastructure bill. Ukraine might allow indirect crypto payments, but would regulate crypto exchanges, and the Warsaw Stock Exchange CEO said that Poland should either join the Eurozone or issue its own CBDC. The Beijing Financial Court said it'll protect the property rights of "digital currency" holders but only if such "currencies" are recognized by the state, while the Bank of Korea issued a surprisingly crypto-friendly report about the role crypto may play in the nation's economy. Also in South Korea, Korbit reopened its flagship bricks-and-mortar customer service center and Upbit gained the upper hand in its legal fight against delisted altcoins issuers. In Japan, two major crypto business groups created a Tax Review Subcommittee. Meanwhile, we learned that there's a crypto angle to the Messi-PSG-Barca saga as PSG's fan token was booming.
You've been informed. Now you laugh.
__________
First, let's check how the market's doing this week.
__
Visionaries.
__
But we shouldn't focus on Crypto Twitter only, we can't neglect CL.
🤘🏼 let's gooooo pic.twitter.com/IFLTPW9Chw

— Digital Nomad (@M4TT_Pleberton) August 13, 2021
__
For those just entering the game, a glimpse into your future.
__
'Dear Mr White Tophat Hacker Sir'
__
'Pls. Ta.'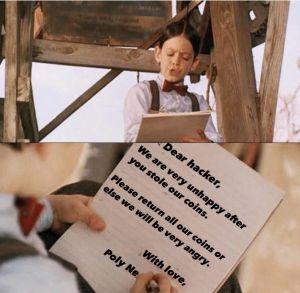 __
Levels of theft explained.
__
Brilliant!
__
No wonder we see them everywhere!
__
Tutorial: How to almost get a rare NFT.
1. Buy rare NFT.

2. Receive a big offer. You finally made it.

3. Accept offer.

4. Your exchange account gets freezed and receive an email that you are under investigation for receiving tainted funds. pic.twitter.com/n1n3Lco4fq

— sake (@sakeblues) August 10, 2021
__
And when you finally succeed:
__
They happy.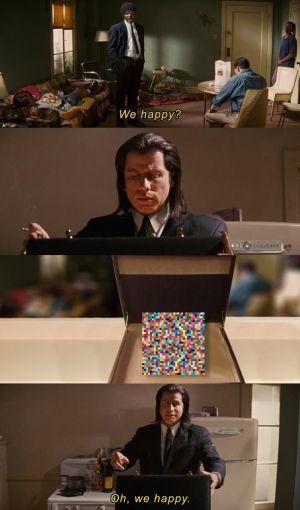 __
It's a new world.
__
Meanwhile, on the regulatory front.
__
Insider knowledge.
__
Let's check the situation behind the scenes.
__
'I've got a cunning plan' – Janet Palpatine.
__
Is it silver or gold lining? Is it assets? Wait, is it some kind of securities lining?
__
That no longer qualifies as cringe. It's more akin to eww.
__
No worries. Bitcoin fixes this.